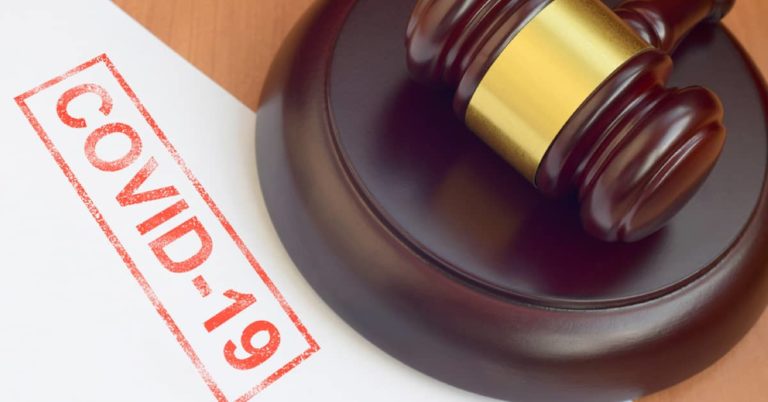 July 21, 2020
A Flood of Lawsuits as States Begin to Re-open
The COVID-19 pandemic brought with it a plethora of legal uncertainties and caused businesses throughout the country to confront previously unimagined litigation risks. Chief among these obstacles is a rise of litigation as a result of harms and breaches caused by the pandemic and also the tolling of deadlines and court closures during the shutdowns. Companies face a significant risk despite the possibility that the federal government or state governments may provide business liability protection of some kind following the opening up of the economy. But now, with many states in the initial phases of re-opening, businesses will also be forced to grapple with a different set of legal uncertainties related to how to conduct business with the threat of COVID-19 still lingering.
As of May 28th, over 2300 complaints relating to COVID-19 have been filed in courts around the U.S. These claims have been against hospitals, nursing homes, airlines, cruise lines, employers, universities, and prisons. These complaints range from employment claims, wrongful-death, contract disputes, and class actions. All corners of the U.S. economy have been affected by this deluge of lawsuits. The repercussions of this COVID-19 shutdown related litigation may be felt for years to come; as such, no company can afford to ignore this issue.
In response to or in anticipation of this increase in lawsuits, many states have enacted laws to protect healthcare providers and nursing homes from legal liability resulting from COVID-19 related harms. Many other industries have lobbied Congress to implement similar protections to at-risk companies. Companies should seek counsel who keeps a breadth of court deadlines changes, tolls of Statutes of limitations, and any legislation providing liability protections resulting from COVID-19.
With the federal government, states, municipalities, and regulatory bodies issuing new guidance on a daily basis, businesses must be able to adapt quickly to this changing situation. It is essential for companies to follow best practices and directives from state and local government authorities for managing the pandemic and dealing with patients, employees, and customers. Taking quick action now could pay in dividends in the future if the federal government or states fail to provide business with liability protections. Companies should seek counsel with experience in reviewing guidances and recommendations from regulatory entities such as the Center for Disease Control or the Food and Drug Association. COVID-19 has brought a multitude of issues to American businesses. Unfortunately, dealing with closures, loss of business and employee safety might just be the tip of the iceberg. Every business knows how vital anticipating litigation is to one's bottom-line, and no company should be comfortable merely hoping that the federal government or states step-in to provide protections. Businesses can come out of this global pandemic in good shape by taking early steps to protect against liability and seeking counsel who is proactive.