Corporate Compliance
Business organizations today operate under an increasingly complex array of laws and regulations both inside and outside the U.S., including anti-corruption, antitrust, securities, fraud, data privacy, data security, environmental, and employment laws. A robust compliance program is one of the most effective ways to navigate this complicated legal environment, protect the business, and reduce the costs associated with violations of law. More than ever, strategic planning is critical to setting the course for operational success. The commercial compliance team at Kendall PC counsels clients on detecting and mitigating risk by efficiently developing operative compliance programs and providing ongoing support and guidance.
Kendall PC has unparalleled experience helping clients throughout the business lifecycle meet the evolving and oftentimes conflicting expectations of regulatory and enforcement agencies. Our compliance team consists of skilled attorneys with first-hand experience who provide practical and results-oriented advice. We have the local knowledge and industry experience to guide clients in all aspects of corporate compliance issues.
For more information about our commercial compliance practice, contact Kendall PC online or at (484) 414-4093. Our commercial compliance lawyers serve companies and organizations throughout the United States and across the globe.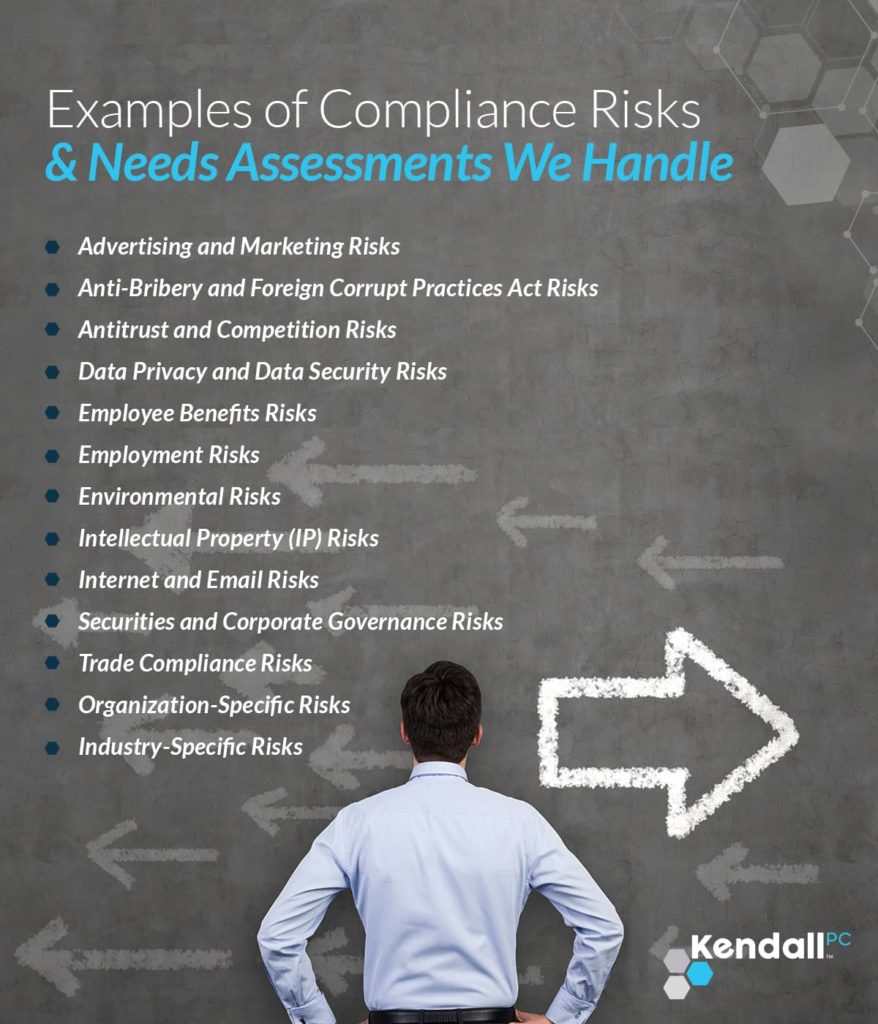 Compliance Program Development
Kendall PC's former in-house counsel has a deep, first-hand understanding of the unique challenges and specific risks that businesses face in creating and maintaining such programs. We bring both legal expertise and hands-on experience to assist companies of all types and sizes to proactively design, implement, enhance, and maintain effective and fit-for-purpose compliance programs devised to deter and detect regulatory, legal, and internal risks and violations. Our commercial compliance team of attorneys has extensive experience counseling clients in the establishment of commercial compliance programs in line with the U.S. Department of Justice (DOJ) and Department of Health and Human Services (HHS) Office of Inspector General (OIG) guidelines.
We routinely assist clients in the design, implementation, and enforcement of comprehensive commercial compliance programs that:
Effectively prevent and detect violations of laws regulations and policies;
Promote an organizational culture that encourages ethical conduct and commitment of compliance to the law;
Address the specific risks of the organization with concrete actions to reduce or eliminate such risks; and
Ensure that employees understand and comply with the laws, regulations and policies that apply to their daily work.
Compliance Risks and Needs Assessments
Compliance risks and needs assessments are essential tools for organizational compliance to focus executive resources to the most significant risks of an organization. They also serve as a basis for allocating such resources to avoid, mitigate, or remediate the most significant risks within the business. The seasoned team of corporate compliance attorneys at Kendall PC provides practical insight and strategic analysis to help clients navigate the compliance intricacies and identify risks associated with their businesses in order to design compliance strategies bespoke to such risks. We have extensive experience working with clients in performing compliance needs and risks assessments to understand and analyze client enterprise-wide business activities, review and identify the regulatory and contractual requirements applicable to the business, and designing risk profiles or risk matrixes that ascertain the potential legal risks within an organization, including:
Advertising and marketing risks
Anti-Bribery and Foreign Corrupt Practices Act risks
Antitrust and competition risks
Data privacy and data security risks
Employee benefits risks
Employment risks
Environmental risks
Intellectual property (IP) risks
Internet and Email risks
Securities and corporate governance risks
Trade compliance risks
Organization-specific risks
Industry-specific risks
Additionally, we provide assistance to companies in ongoing risk assessments of client compliance programs to maintain the effectiveness of same in an ever-changing risk landscape. In doing so, we analyze client enterprise-wide business activities to:

Update risk profiles as appropriate
Identify opportunities for continuous improvement, considering factors such as:

Program audit results
Compliance reports
Changes to applicable laws and regulations
Recent litigation and claims
Industry benchmarking
Evolving industry standards and enforcement trends
New regulatory guidance on compliance programming, including guidance published by the DOJ and SEC

Modify and tailor compliance program elements to address updated risk profiles and specific needs of the business
Coordinate compliance risk assessments with the organization's enterprise risk management program
Policies, Procedures, and Standards for an Effective Program
An effective legal compliance program requires standards of conduct and internal controls and procedures that give both content and effect to ethical norms. They must effectively address and reduce identified risks and the likelihood of misconduct. They must also incorporate a culture of compliance into the business's day-to-day operations. Kendall PC works with clients of all sizes to determine the appropriate compliance standards and actions to take in light of the business's practices, goals, objectives, and risks considering:
Standards required by applicable laws and government regulation
Industry practice
Size of the organization
Similar misconduct
Among other core documents, our team of corporate compliance attorneys has vast experience in creating:
Code of conduct and ethics documents in accordance with Sarbanes-Oxley requirements, where applicable
Employee handbooks
Hotline procedures
Escalation protocols
Investigation procedures
Other tailored written policies and procedures to guide the company's directors, officers, and employees in performing their respective responsibilities
Additionally, we review existing client policies and procedures to assess feasibility; risk; application of pertinent regulations, laws, best practices, and standards; and employee adherence.
Compliance Training
Ongoing and active training, certification, and communication are integral parts of an effective corporate compliance program and among the best strategies to prevent and mitigate future compliance issues. Kendall PC works with clients to build, tailor, and implement targeted compliance training programs mapped against employee roles and responsibilities and rooted in real-world settings. Each training program is designed to promote an understanding of the laws and policies applicable to the pertinent activity, including specific training on identified risk areas, activities prohibited, ways to recognize and report potential violations and penalties, and consequences resulting from such violations. Where applicable and necessary, we work with clients to address prior compliance incidents and findings of misconduct. In addition to compliance training programs, our team counsels clients in developing and implementing practices to establish confidential internal reporting mechanisms for personnel to seek guidance, raise concerns, and report potential misconduct as well as establishing internal compliance channels which aim to reinforce the company's compliance policies and standards throughout the organization.
Compliance Auditing and Monitoring
Kendall PC assists clients in monitoring and testing compliance program control strategies and metrics to ensure that such programs are operative and observed. We regularly provide support in:
Developing processes and systems to continuously monitor the company's ongoing operations to verify that internal controls, policies, and procedures are in place and being followed
Conducting assessments of the compliance function using analyses of compliance trends within the company, such as hotline statistics, feedback on compliance matters, and review of high-risk areas
Identifying compliance gaps where standards have not been fully understood or implemented and other program or operational weaknesses that may require more detailed evaluation or auditing
Determining opportunities for program improvement
Due Diligence and Oversight of Third-Party Relationships
The actions of third parties can create significant risk for a company, including exposure to liability under laws such as the U.S. Foreign Corrupt Practices Act (FCPA) and UK Bribery Act (Bribery Act), harm to the organization's reputation, and damage to the organization's ability to conduct business in certain jurisdictions. Kendall PC provides support to companies of all sizes on establishing internal controls and mechanisms to effectively oversee third-party relationships.
Additionally, our team of corporate compliance attorneys has experience in conducting risk-based due diligence and preliminary risk assessments on potential third-party commercial transactions, including:
Target companies in mergers and acquisitions
Third-party agents and intermediaries
Service providers
Other business partners
Our corporate compliance lawyers can identify perceived or known threats based upon key risk indicators, such as the:
Geographic location
Industry sector
Third-party background
Types of services or activities performed
Overall transaction value
Compensation and reimbursement plans
Connections with government entities or officials
Other suspicious factors
Investigation and Remediation of Compliance Issues
It is essential that today's companies develop and implement a comprehensive process for responding to reports of potential or actual non-compliance, analyzing the root causes of that misconduct, and remediating to address those causes. Kendall PC has extensive experience supporting clients in the response and management of reported compliance issues, including conducting informal and formal internal investigations, providing counsel on appropriate and adequate remedial and disciplinary measures given the nature of the misconduct and resulting harm, and implementing corrective measures to prevent similar misconduct in the future.
Contact Our Corporate Compliance Lawyers Today
For more information about our corporate compliance practice, contact the corporate compliance lawyers at Kendall PC now online or at (484) 414-4093. Our distinguished firm proudly serves small, midsized, and emerging businesses throughout the United States and across the globe.