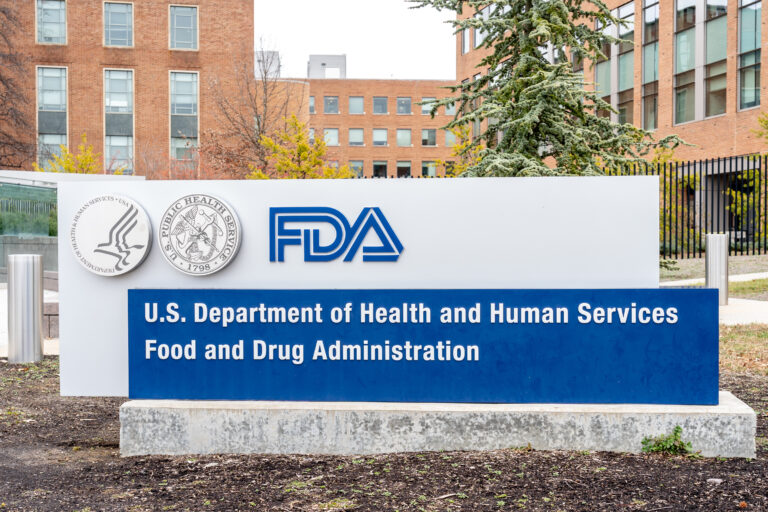 March 18, 2023
FDA Calls on Powdered Infant Formula Industry to Enhance Safety Measures
On March 8, 2023, FDA issued a letter to manufacturers, packers, distributors, exporters, importers, and retailers involved in the manufacturing and distribution of powdered infant formula. According to FDA, the letter calls on those in the industry to take "prompt action to improve processes and programs for the protection of our most vulnerable population."
The letter comes as the agency's most recent response efforts to the nationwide recall and temporary pause in production at one of the country's largest infant formula manufacturing facilities last year. Specifically, between September 2021 and February 2022, FDA received complaints about four cases of illness or death in infants who consumed powdered infant formula. Each of the infants consumed infant formula products manufactured by Abbott Nutrition in Michigan. As a result, FDA initiated an onsite inspection at the manufacturing facility and an investigation that revealed unsanitary conditions, including the presence of five different strains of the pathogen Cronobacter sakazakii within the facility. While harmless to most, Cronobacter can be life-threatening for infants younger than two months, infants who are born prematurely, and infants who have weakened immune systems. Yet, the contaminated samples did not genetically match the available clinical isolates from two case patients or any other clinical isolates in the National Center for Biotechnology Informatics (NCBI) data. Consequently, FDA ultimately was unable to determine whether the infants became sick from the manufacturer's product or through other means. However, the findings led to an agency warning that consumers should not use certain products manufactured at the facility on February 17, 2022. That same day Abbott Nutrition issued a voluntary recall and temporarily ceased production.
Since the recall, FDA has issued several guidance documents intended to "help facilitate the availability of safe and nutritionally adequate infant formula products" in the U.S. market through the exercise of enforcement discretion. In addition, the agency has enhanced its inspectional activities, including a review of food and safety operating conditions; increased engagement with industry; and pursued regulatory action in certain cases. 
FDA also noted that the letter followed meetings with powdered infant manufacturers to further develop the Cronobacter prevention strategy, the FDA's plan to prevent the illness associated with the consumption of powdered infant formula. According to FDA, the letter reflects information the agency obtained through discussions with the industry as well as the latest available science to assist the industry in "improving the microbiological safety of powdered infant formula."
Letter to Powdered Infant Formula Industry
Call to Action
The letter includes a direct "call to action" for members of the infant formula industry. Specifically, FDA requests that industry members comply with the following:
Evaluate their established system of production and in-process controls for all stages of processing (from receipt and acceptance of raw materials, ingredients, and components to storage and distribution of the finished product) and ensure that appropriate controls are implemented in accordance with 21 CFR 106.6 at any point, step or stage in the production process where control is necessary to prevent adulteration
Ensure full compliance with all relevant regulations – including the Infant Formula Requirements Pertaining to Current Good Manufacturing Practice, Quality Control Procedures, Quality Factors, Records and Reports, and Notifications Rule (21 CFR Part 106) and the Current Good Manufacturing Practice, Hazard Analysis and Risk-Based Preventive Controls for Human Food Rule (21 CFR Part 117)
Consider the concerns outlined in the letter when evaluating their established system of production and in-process controls, including when taking corrective actions
Ensure adherence to the notification requirement of adulterated or misbranded infant formula at any time product has left the facility in accordance with 21 CFR 106.150
In addition, FDA requested that industry members notify the agency at any time a product sample is found positive for Cronobacter, even if the affected lot(s) had not been distributed.
Areas of Concern at Powdered Infant Formula Manufacturing Facilities
The letter states that FDA identified areas of improvement across the infant formula industry based upon its recent inspections of infant formula manufacturers, including surveillance inspections, for-cause inspections, and other interactions. According to the letter, FDA delivered the information to industry members with the "expectation" that same will act to mitigate potential food safety risks in accordance with FDA regulations as well as "further striv[e] to improve operations."
Controlling Water in Dry Production Areas
Per FDA, industry members acknowledged that reducing the presence of water in dry production environments is essential to controlling environmental contamination such as Cronobacter and Salmonella. FDA observed water present during production in areas intended to remain dry in several infant formula manufacturing facility inspections. The letter identified poorly maintained equipment that leaked during clean-in-place procedures as one source of water in the dry production environment, noting specific issues with manufacturer practices for such procedures. FDA underscored the cruciality of rectifying the identified concerns, directing that "[t]he incidence of water in dry production environments should receive prompt consideration by the industry."
Verifying the Effectiveness of Controls Through Environmental Monitoring
According to the letter, environmental monitoring is an important verification measure to ensure that sanitation and hygiene controls effectively prevent pathogens from entering or persisting in dry production areas. FDA's inspections of powdered infant formula manufacturing facilities found that although facilities had implemented some form of environmental monitoring programs (EMPs), differences existed among such programs as to where in the facility sampling and testing was conducted to test specifically for pathogens such as Cronobacter. FDA's findings also indicated that some manufacturers utilized methodologies that monitored for Enterobacteriaceae (EB) but not Cronobacter, relying on those findings to indicate whether Cronobacter was also present or not. According to FDA, the agency is not aware of sufficient data to demonstrate a correlation between the two, noting that it detected Cronobacter in environmental samples from manufacturers conducting this testing. The letter stressed that manufacturers must establish a well-designed and implemented EMP that should provide information about the hygienic conditions at all stages of processing and should focus the greatest amount of sampling on surfaces from which the risk of contamination is greatest. In addition, FDA recommends direct testing for Cronobacter "at some frequency."
Implementing Appropriate Corrective Actions Following the Isolation of a Pathogen from an Environmental Sample or a Product Sample
Manufacturers are required to implement a corrective action plan in the event verification testing detects a pathogen under 21 CFR 106.6. According to the letter, FDA investigators reviewed and/or observed correction actions taken in response to detecting Cronobacter. Based on its investigation findings, the letter stated that FDA encourages manufacturers conducting a root cause investigation (RCI) to thoroughly investigate the potential source of contamination by collecting environmental samples before performing sanitation activities. FDA also highlighted that to date, the best currently available science demonstrates that the only adequate remediation for food contact surfaces contaminated by a bacterial pathogen is the application of a sanitizing treatment. Further, physical dry-cleaning techniques have not been proven effective. In addition, the letter noted that FDA strongly recommends that manufacturers utilize whole genome sequencing (WGS) and the public database of genomes available at the NCBI to analyze and investigate any pathogen isolated from a production environment or product.
Implementing Effective Supply-Chain Controls for Biological Hazards
Powdered infant formula manufacturers are required under FDA regulations to evaluate any known or reasonably foreseeable hazards associated with raw materials to determine if they require control at the supplier and if so, to establish a supply chain program for those raw materials or other ingredients. FDA stated that the agency observed in its inspections that some manufacturers have processes or process steps that use raw materials or other ingredients that do not apply a treatment to raw materials or ingredients that would be lethal to bacterial pathogens. In addition, FDA inspections of domestic and foreign suppliers of raw materials and ingredients "did not always fully characterize the risk associated with bacterial pathogens at the supplier's facility." According to the letter, verifying sanitation controls and maintaining a production environment suitable for infant formula production conditions at the supplier as well as informing the suppliers of the intended use of the raw materials are the responsibility of the powdered infant formula manufacturer.
Identifying All Relevant Biological Hazards
The letter also reminded industry members that in addition to Cronobacter, other known or reasonably foreseeable biological hazards are associated with powdered infant formula. FDA specifically identified Salmonella and Clostridium botulinum as pathogens that have historically led to Salmonella infections and botulism in infants who consumed powdered infant formula from a variety of manufacturers. FDA encouraged industry members to "evaluate its practices to mitigate the potential risk of Cronobacter spp. and other biological hazard contamination in all founds for infants and young children."
Contact Our Attorneys Today
The attorneys at Kendall PC have over three decades of legal experience serving as general, litigation, and special counsel to a wide variety of regulated industry entities. Our firm offers comprehensive legal services to clients navigating complex regulatory and compliance-related issues.
To learn how our attorneys can help your company, contact Kendall PC today online or at (484) 414-4093. Our firm proudly serves small, midsized, and emerging businesses throughout the United States and across the globe.